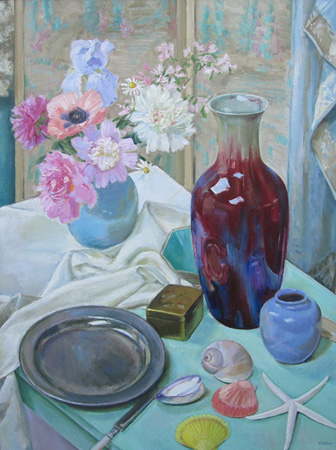 Still Life with Flambe Vase,
oil on board 32 x 24"
$3200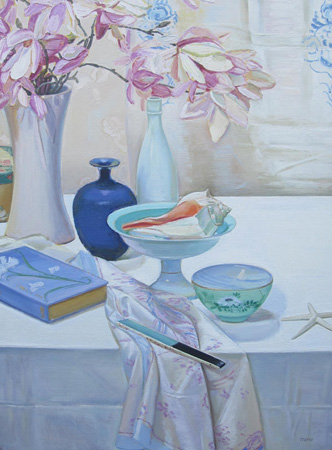 Magnolias and Welk,
oil on board 32 x 24"
$3200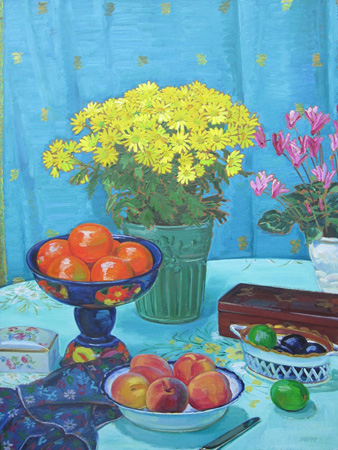 Chrysanthemums and Oranges,
oil on board 32 x 24"
$3200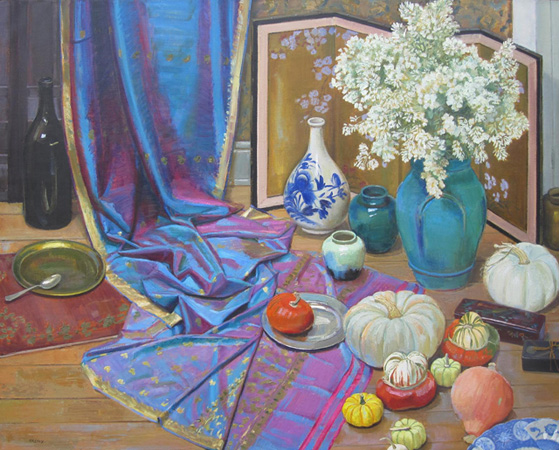 Autumn Still Life with Tokkuri,
oil on board 40 x 50"
$7000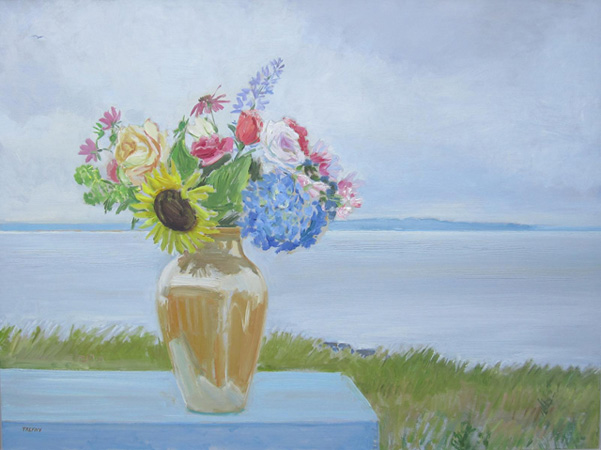 Silver Sky Bouquet,
oil on board 24 x 32
$3200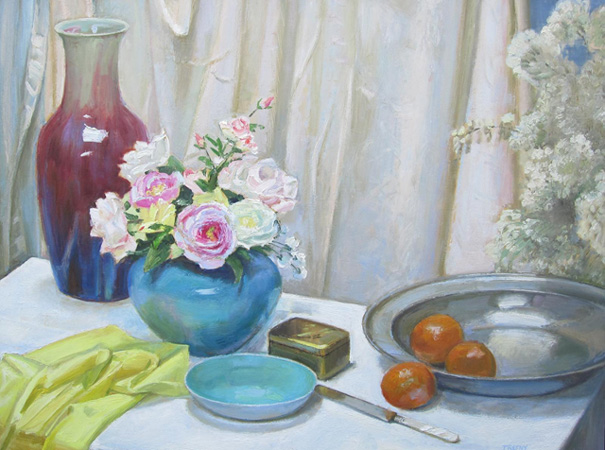 Still Life with Roses and Flambe Vase,
oil on board 24 x 32
$3200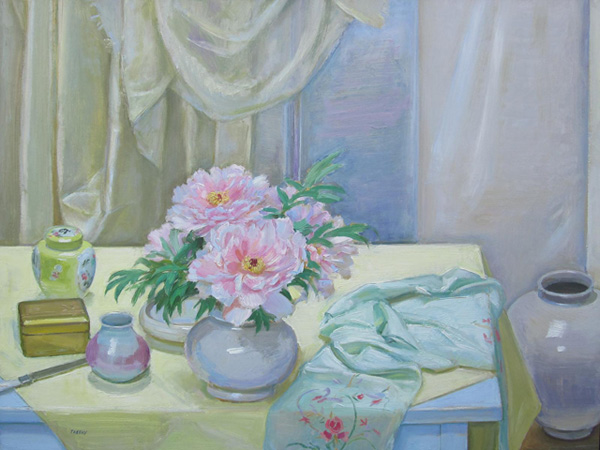 Tree Peonies and Moon Jar,
oil on board 24 x 32
$3200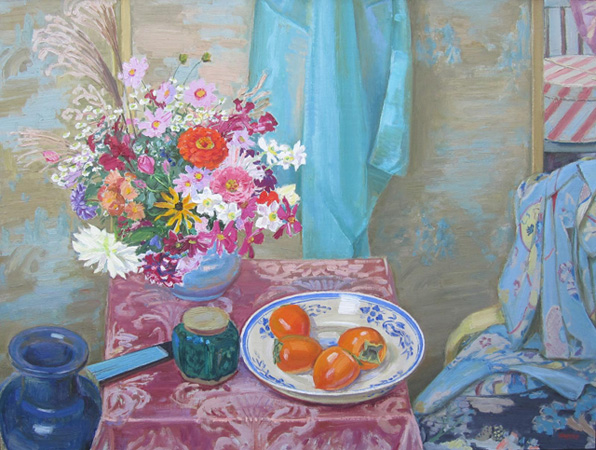 Persimmons and Autumn Flowers,
oil on board 24 x 32
$3200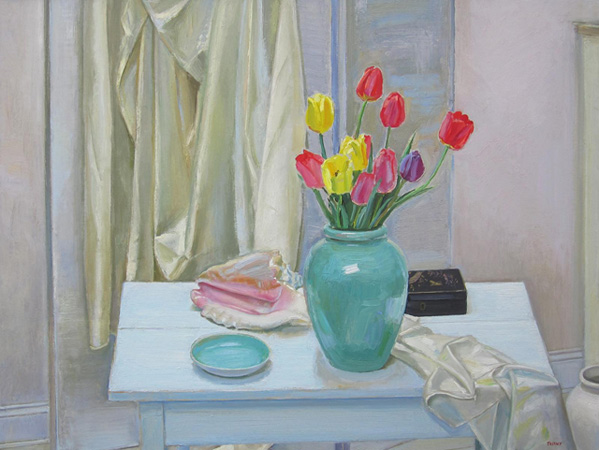 Table with Tulips,
oil on board 24 x 32
Private Collection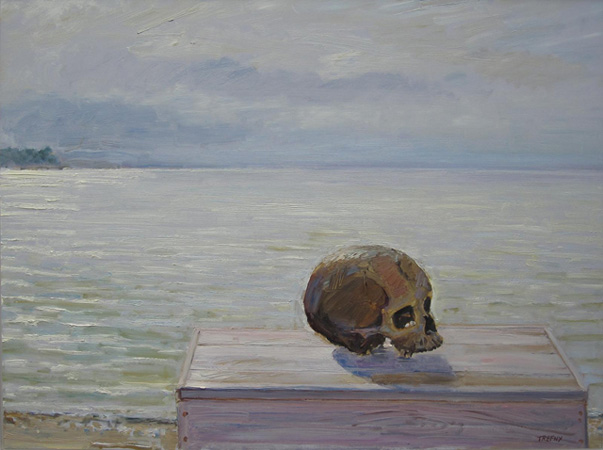 Chesapeake with Skull,
oil on board 24 x 32
$3200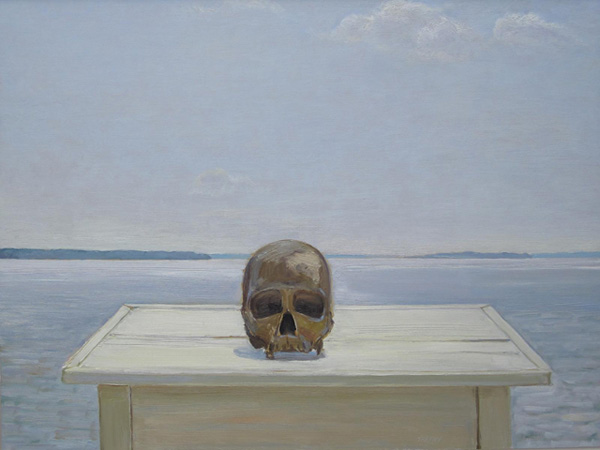 Downriver Morning with Skull,
oil on board 24 x 32
$3200




Group 1 | Group 2 | Group 3 | Group 4 | Group 5 | Group 6 | Group 7
Reviews
Philadelphia painter Scott Noel wrote in a catalog of Trefny's works in 1994, "In their orchestration of objects, fabrics and flowers, Frank Trefny's still life paintings evoke a world of harmonious, sensual richness. The pictures are lush and full, celebrating the pleasures of beautiful things and beautiful painting, but the images also summon complex, layered feelings, the joy of their painterly sensuality leavened with wit and melancholy."

In Art in America magazine (May 1996), esteemed art critic and contributing editor Gerrit Henry writes, "Trefny is a master at turning realistic configurations into painterly abstractions, and his unusually large (for still life) canvases can be read over and over again for their many incidents of exalted painterly brushwork in his renderings of brocades, Chinese screens, pagoda tables, folded and open Oriental fans, homegrown vegetables, flower arrangements and spreads of brilliant silks. Trefny haunts antique and junk stores before spending days assembling his "rude objets" into a setup he can live with--and paint. The results are astonishingly beautiful canvases, presenting many vistas all at once."

Henry, Gerrit, "Frank Trefny," Art in America, May, 1996

Other Publications: Scott, William P., "Frank Trefny," American Artist, December 1987.