Sheep Jones
The Singular Vision of Sheep Jones
by Steven Scott

"I absolutely love these paintings! Is that her real name!?!" These exclamations are the first thing I hear from gallery visitors on an almost daily basis upon encountering the work of Sheep Jones.

Born and raised in rural Waterville, Maine, the former Elaine Cyr grew up in a strict Catholic French-Canadian speaking household, the oldest of five children. The artist's unique perspective in her work is partly the result of a childhood accident at age three -- she ran headfirst into a tree branch while running with five playmates around an apple tree and lost the vision in her left eye as a result. She now has very limited depth perception and often wears jeweler's glasses to create her oil and encaustic paintings.

Though she grew up in a very musical household, her parents worried about her dream of becoming a painter; they wished for her to have a practical trade despite her obsession with painting which began in the eighth grade. Elaine met her high school sweetheart, Charlie Jones, in the eleventh grade. His father would ask about Charlie's new girlfriend with her long, unruly bangs surrounding her adorable face like a "sheepdog." After college, the boyfriend became her husband and the nickname also became a keeper.

Attending the University of Maine at Portland/Gorham, "Sheep" majored in Art Education, satisfying her parents wishes and attaining the skills needed to survive as an artist. During college she developed a passion for the muted colors and patterns of Vuillard, Schiele and Braque as well as the expressive, high keyed tones and textures found in Klimt, Matisse and the contemporary printmaker Hundertwasser.

During high school and college, Sheep and Charlie often traded handmade books and drawings instead of letters and both developed a love for Japanese art and culture. They married in 1973 and two years later moved to Annapolis where Charlie attended St. John's College. Upon graduation in 1979 they lived in Japan for six months on an academic fellowship, studying Japanese at a Shinto shrine while working in a paper making village.

Upon their return to the U.S. in 1980, they lived in Northampton, Massachusetts, while Charlie pursued his PhD. in Linguistics at University of Massachusetts at Amherst. Sheep rarely painted during these five years, instead devoting herself to raising their two sons, Jules Buck Jones, a painter born in 1981 and living in Austin, Texas, and Miles Jones, a mathematician born in 1983 and now attaining his PhD. in San Diego.

In 1985 the Jones family moved to Fairfax, Virginia, for Charlie's tenured position at George Mason University. Restless from her hiatus from painting and with her sons now in school, Sheep began taking classes in painting at the Art League School at the Torpedo Factory in Old Town Alexandria in 1987. Though she studied realist floral watercolor painting, she found that she was more drawn to the growth below the surface -- the roots and bulbs, soil and insects. Focusing on the boundaries of earth and air, sea and shore, interiors and exteriors, Sheep often utilizes a cutaway composition in which the flower or vegetable is depicted above the horizon in equal measure to the mysterious subterranean life of roots and rocks, beetles and larvae, underground streams and the water table. Hence, her favored subjects of beets, carrots, parsnips, radishes and tubers as well as daffodils, dahlias, thistles and assorted fanciful flowers are exposed in their entirety in her lush, verdant expressively brushed oils.

Spending her Christmas vacations and summers in Maine where she shares a vacation home with her sister, Julie Cyr, also a painter, Sheep frequently depicts the houses and coastlines around Belfast, Maine and the surrounding region. The often rundown structures -- one or two story houses, sheds, barns, ice shacks and numerous beehives -- seem to be buzzing with activity. The artist tends to choose the solitary structures for their uniqueness and because they are so very different from the monotony of suburbia. Usually centered in the compositions, the viewer is able to peer through the building's doors and windows to encounter a magical realm inside, much like the surprises found beneath the earth in her botanical renderings. Another equally common subject in her recent work is the solitary female figure, dressed in exotic costume, standing tall on the horizon and welcoming the viewer into her enchanting vista.

Sheep taught at the Art League School in Alexandria from 1994 to 2004, became a resident artist at the Torpedo Factory in 2000 and was named "Artist of the Year" in 2003, which resulted in an acclaimed solo show at the Target Gallery there. She has been represented by Steven Scott Gallery, Baltimore since 2009, and the three paintings reproduced here were acquired by UMUC in 2010. Visitors to my gallery marvel at Sheep's bravura brush work, unexpected color choices, evocative compositions and faux-naive, flattened perspective, the result of her monocular vision and the great challenge caused by her lack of depth perception.

This singular, surreal and often whimsical style has become so popular that Sheep has been nearly selling out shows for almost a decade now. She no longer feels the pressure to paint for the marketplace; she can now experiment with many themes and realize her lifelong vision of being a much cherished, highly successful artist.
Copyright 2012 Steven Scott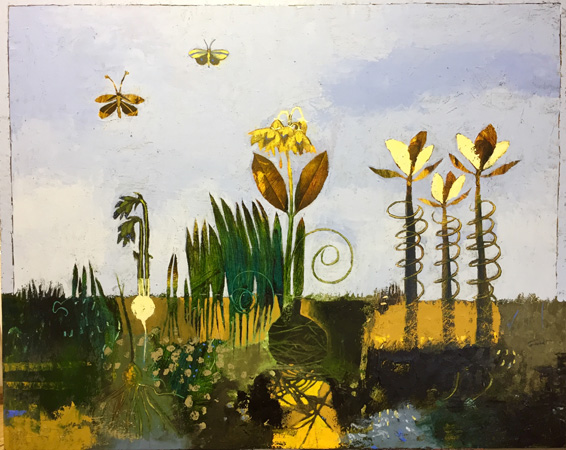 BOTANICAL 153, 2017
Oil on wood, 24 x 30"
$2200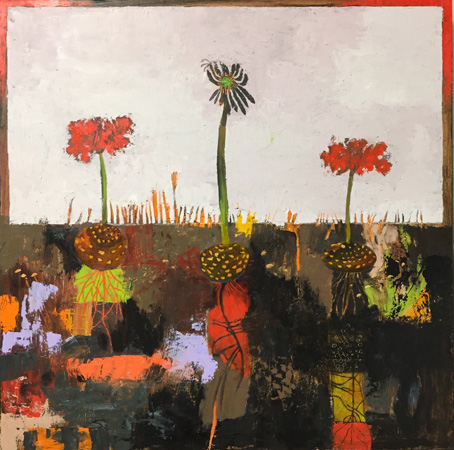 BOTANICAL 154, 2017
Oil on wood, 24 x 24"
$1750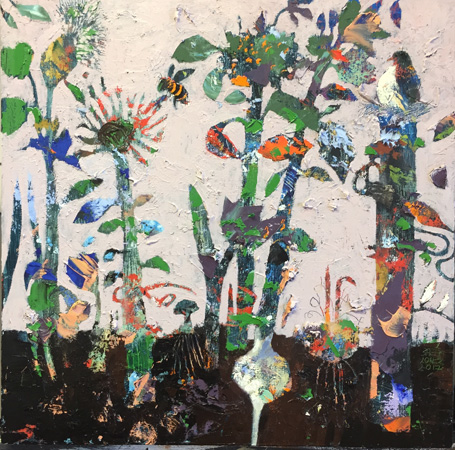 GARDEN 67, 2017
Oil on wood, 12 x 12"
$775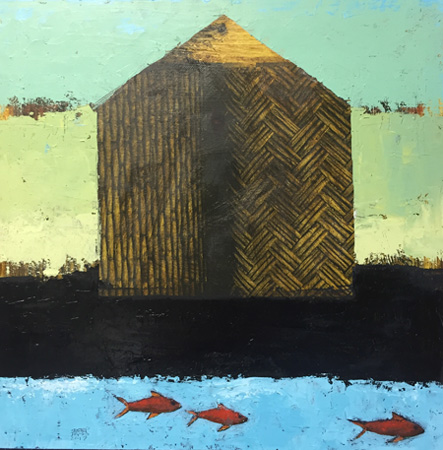 LAND SEA AIR 11, 2017
Oil on wood, 12 x 12"
$775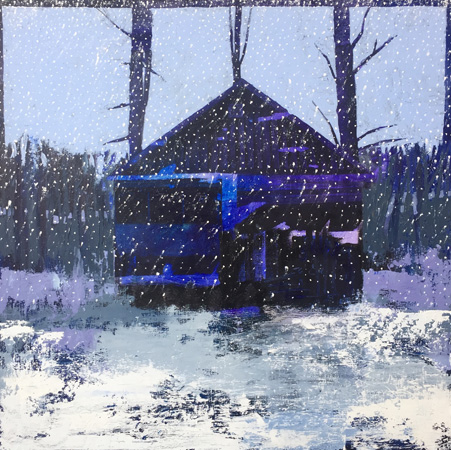 OFF THE BELGRADE ROAD, 2017
Oil on wood, 24 x 24"
$1750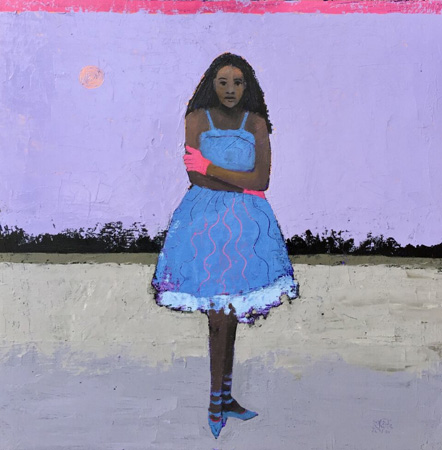 Chill, 2016
Oil on wood, 12 x 12"
$775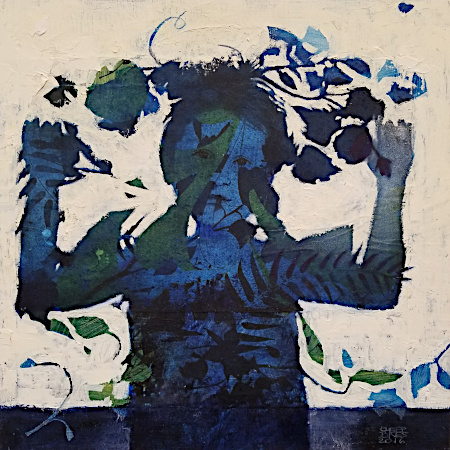 Blue Angel, 2016
Oil on wood, 12 x 12"
$775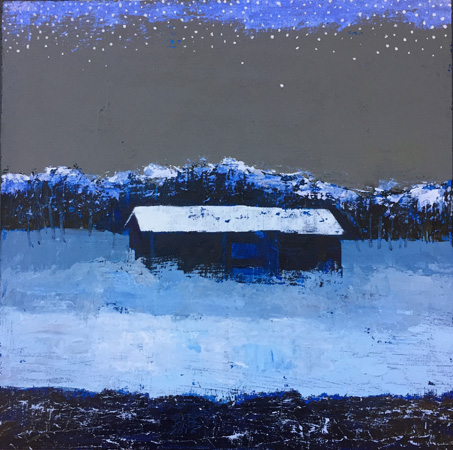 Skowhegan Snow, 2016
Oil on wood, 12 x 12"
$775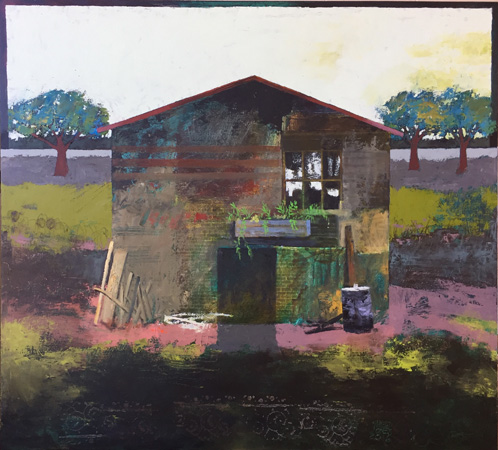 Back Lot, 2016
Oil on wood, 36 x 40"
$3800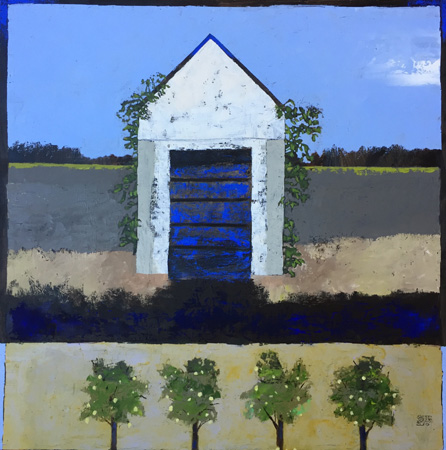 Arbor Day, 2016
Oil, wax, wood, 24 x 24"
$1750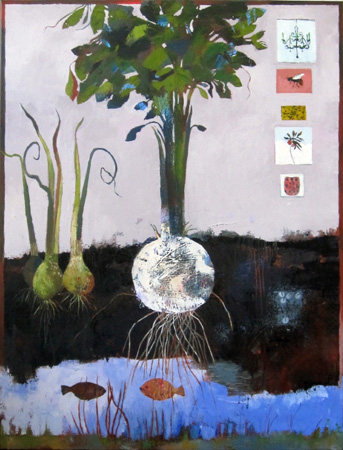 Basin, 2014
Oil on canvas, 36 x 48"
$4400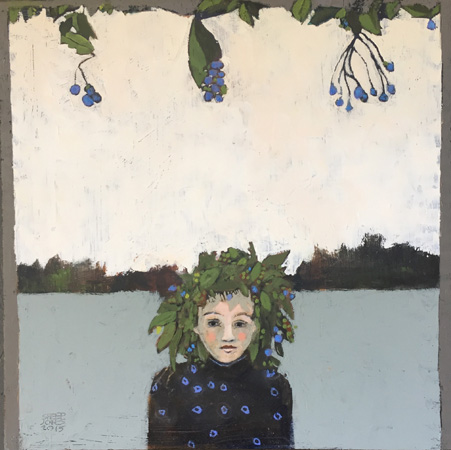 Huckleberry, 2015
Oil on wood, 12 x 12"
$775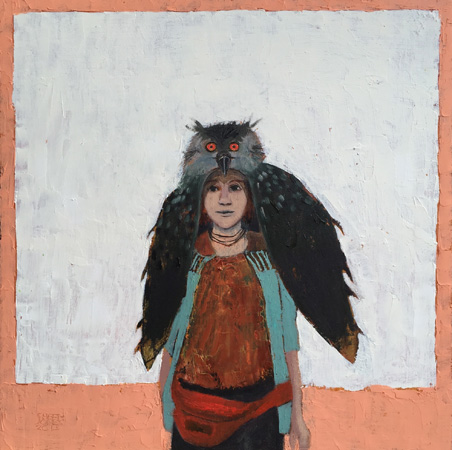 Hide 9, 2015
Oil on wood, 12 x 12"
$775







Patchwork 5, 2015
Oil on wood, 6 x 24"
$800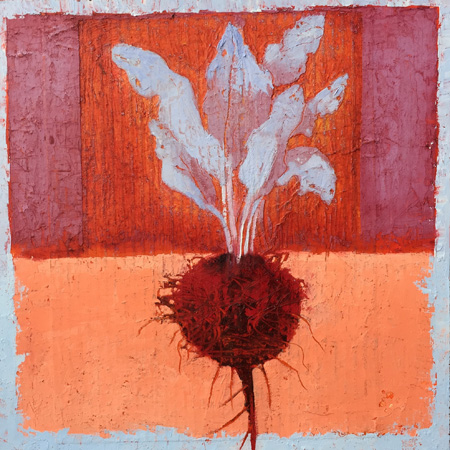 Sky Blue Leaves, 2015
Oil on wood, 12 x 12"
$775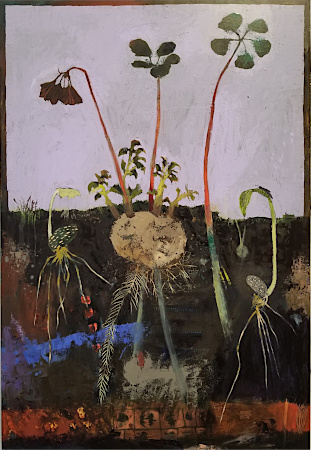 Organic 2, 2014
Oil on wood, 24 x 36"
$2400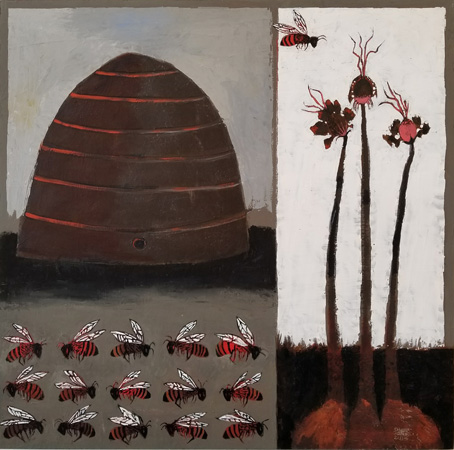 16 Bees, 2014
Oil on wood, 24 x 24",
$1750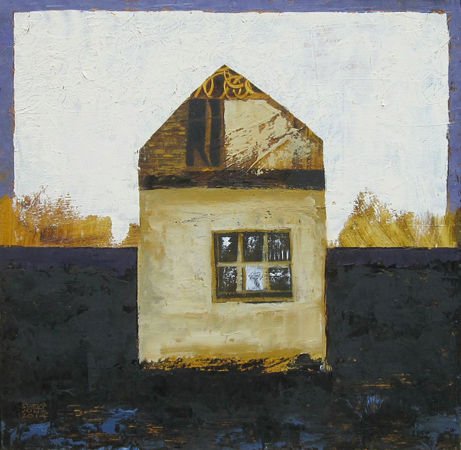 Calais, 2014
Oil on wood, 12 x 12",
$775





Biography I was born and grew up in Waterville, Maine. I studied art at the University of Maine in Portland. I work in oil and wax.

My paintings begin with layers. From my past work in watercolor and wax I've held on to the opportunities that mixing transparent colors offers. Layers add extra interest, leaving swatches of colors in their wake. These are perfect tidbits for the imagination.

I always am looking for the puzzle pieces to suggest a narrative. Disparate images finally come together and start to hint at some kind of sense. The thing is, all people have stories. Often, they will look at one of my paintings and recognize in it their own story, their own past, their own dreams.

I have exhibited my work in several solo and group shows and galleries in the US and Europe. In 2003, I was chosen as Artist of the Year at the Torpedo Factory.

I split my time between living in the Washington DC area and in Belfast, Maine.

Reviews

Old Town Crier 01.nov.01
F. Lennox Campello
Finally, in the solo room there is some truly breathtaking paintings of what normally are boring subjects: vegetables, fruits and flowers. The artist is Sheep Jones and the work is superb! Jones experiments wildly with various pigments and papers and plastics to create colorful, imaginative, exuberant works that make one glad that there are artists who still love to pick up a brush and cover a blank surface with an image, ignoring how "dead" painting is supposed to be according to some silly art dictators. She works her pigments onto paper, Mylar, clayboard and some medium odd known as Yupe. Her creations allow us to go underground as a sort of a vegetable peeping Tom and let us see just what those carrots do underground.

SunSpot.net 02.dec.29
Glen McNatt
Somehow, the most affecting pictures for me were of the sheds, whose casual, improvised architectures seemed to lend themselves to all sorts of abstracted musings about landscape, the environment and a powerful sense of place - without, however, being about anywhere in particular.

Washington Post 04.april.08
Jessica Dawson
Jones belongs to the Robert Rauschenberg school of painting, in which sticking an object on top of the canvas works just as fine as oil or encaustic. In her latest group of paintings, on view at Target, Jones includes articles of children's clothing and the occasional plastic google eye. She douses them with paint and marks her board or canvas with rough incisions and a somber palette.